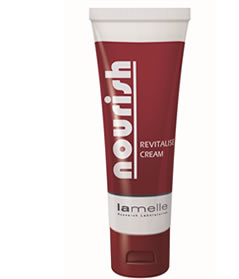 Nourish Revitalise Cream is a medium weight moisturiser for morning and evening use.
The cream contains a hydrating formula for nourishing the skin anti-oxidant defences. The cream rapidly absorbs into the skin due to its high lipid affinity. With the addition of a proprietary ingredient, Nourish Revitalise Cream provides dermal and epidermal remodelling.
Directions for use:
After cleansing, apply the product to face and neck allowing to fully absorb before applying additional products.
Use twice daily.