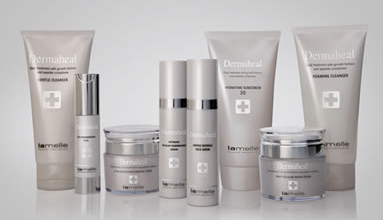 Most skin care products contain ingredients that moisturise, protect, soothe and reduce free radicals, pigmentation and redness.
There are very few ingredients that are strong rebuilders of damaged collagen and those that exist are generally very irritating to the skin and take a very long time to work effectively. Compared to even powerful prescription medications, no other topical ingredients can display the effectiveness of growth factors on the skin. Topical growth factors like the ones in the Dermaheal range increase new collagen in a fraction of the time and with no irritation due to the fact that they naturally occur in the skin.
Lamelle has also prepared additional powerful products selected to address those more worrying areas and signs of ageing. Some of these products include powerful booster treatments such as an Anti-oxidant, Brightening and highly rated Intensive Cellular Regeneration serum. Other serums for different applications are available within this range. Serums have been developed to accelerate and stimulate powerful skin regeneration and are used periodically to boos the skin's remodeling.