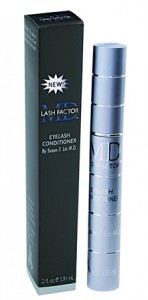 Voted Product of the Year by Consumer Survey of Product Innovation
Unlike false eyelashes or messy mascaras that only create an illusion of longer lashes, MD Lash Factor works to enhance your eyelashes' natural beauty. Whether your lashes are thinning because of a nutritional imbalance, medical treatments or harsh detergents, this proven formula can help restore your eyelashes to their full potential…and more.
Studies suggest that MD Lash Factor promotes the appearance of longer, fuller, thicker eyelashes in as little as four to five weeks. A scientific study confirmed that patients who used MD Lash Factor for one month saw over 50% improvement in the appearance of their natural eyelash length.
MD Lash Factor has been tested by ophthalmologists, is hypo-allergenic, safe for sensitive eyes and is paraben free. It is also a safe and gentle way to restore fullness to thinning eyebrows.
MD Lash Factor can be used as part of your regular beauty regime.
At night after cleansing, apply a thin line of MD Lash Factor to your upper lash line once a day, as though you were applying liquid eyeliner. Do not apply MD Lash Factor to your actual eyelashes and only use a small amount when applying the product.
For optimal results you need only apply a very small amount to your upper lash line once a day.
MD Lash Factor makes a wonderful addition to your skincare routine. Itis safe to use on your eyebrows to help your over-plucked eyebrows look denser, thicker, and darker. MD Lash Factor is safe to use on permanent makeup and will not cause any discolouration or fading.
In an independent clinical study by a board-certified ophthalmologist, MD Lash Factor showed no effect on visual acuity, cornea, eyelid, and conjunctiva. There were no changes in colour or deposits on the contact lenses.
As with any cosmetic preparation, there are some individuals that may be allergic to one or more components of the product. If you know or suspect that you might be allergic to any of the ingredients used in MD Lash Factor, we recommend that you do not use the product. Some users have reported a mild irritation at the base of their upper lashes while using the product. If this occurs, you can either temporarily withhold using the product for a few days and then continue use, or stop using the product if severe irritation occurs. Most of our users report no irritation or minimal irritation after a few weeks of use.
Once you have your desired look you can go ahead and use MD Lash Factor two to three times a week to maintain your current look. If you do decide to stop using MD Lash Factor, your lashes will go back to their original length.
We do not recommend using MD Lash Factor if you are currently using eye medication, have had eye surgery in the last six months or have an eye infection.