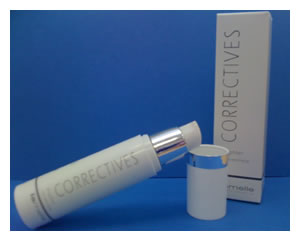 We are proud to announce that Correctives Brighter concentrate is now available!
Brighter concentrate can be used as a pre treatment prepping agent and does not need to be discontinued prior to professional treatments; a two week prepping period should be followed.
So why is it called Correctives Brighter concentrate and not Luminesce Brighter concentrate? It's simple: the product is intended to be used across the Lamelle offering, ie as a pre-treater, as a 'booster' for clients who may be on Dermaheal and have some pigment but not enough torequire the entire Luminesce range.
Correctives' is a sub-brand that includes all specialist products that can be used interchangeably with other ranges / brands.
Deca-butin together with the 4 pigment inhibiting peptides is a significant step forward in the industry. Brighter concentrate is safe, effective and blocks ALL 8 steps in the melanin production pathway as well as having a potency significantly greater than Hydroquinone, Kojic acid and Beta-arbutin.
Brighter concentrate can be used twice daily after cleansing, followed by day / night product and once daily for maintenance. Apply to affected areas, but there is no issue if the product reaches 'normal skin'. Brighter concentrate is presented in a white 30ml glass dropper bottle and should last 6-8 weeks.