These multi-action products have been developed to address photoageing at all skin layers. Powerful. Potent. Professional.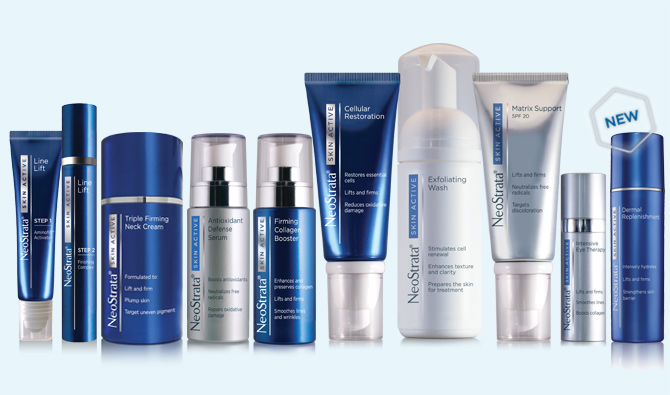 Skin Active Lift Line
Two easy steps help activate collagen and hyaluronic acid to volumise the deep skin matrix. Clinical trials prove effect in just four weeks, with continued improvement through 16 weeks. The SynerG System 13.0 (featuring aminofil, neoglucosamine and neocitriate) helps stimulate the skin's natural fillers, reducing the appearance of deep lines and wrinkles that may not respond to an anti-ageing skincare regimen alone.

Skin Active Triple Firming Neck Cream
The Skin Active Triple Firming Neck Cream is specifically designed to target the delicate neck area and décolletage. This quick absorbing, exfoliating cream tightens the skin whilst increasing volume to dramatically improve the appearance of the skin. New to the range. Available in an 80g pack.
Skin Active Antioxidant Defense Serum
Boost your daily anti-ageing regimen with this powerful, concentrated serum. It is formulated to combat oxidation-induced photoageing.
Eight powerful, multi-action antioxidants combat oxidative damage and protect the skin from premature ageing.
Bionic and polyhydroxy acids help prevent sun-induced cellular damage.
Citric acid, lilac, green tea and chardonnay grape seed extracts work together to neutralise free radicals and preserve healthy DNA.
Skin Active Firming Collagen Booster
Enhance and preserve natural collagen with this concentrated serum, formulated to maximise collagen for skin that is smoother, tighter, and firmer.
Gardenia cell culture preserves existing collagen structure and helps stimulate new collagen.
Amino acids and Matrixyl™ 3000 peptides help build new collagen.
Neoglucosamine reinforces collagen's protective support matrix.
Skin Active Cellular Restoration
This multi-mechanistic approach rejuvenates cellular function and strengthens the skin's underlying structure. The formulation contains apple stem cell extract. These protect and extend the life of the skin's own stem cells, helping to delay the effects of ageing. The appearance of deep wrinkles is reduced as collagen production is increased which plumps and fills the skin. Wrinkles are smoothed from the inside out.

Skin Active Exfoliating Wash
Combat ageing with this advanced anti-ageing facial wash. It is formulated to synergistically stimulate cell renewal and prepare the skin for maximum treatment benefits while cleansing away impurities.
Comprehensive anti-ageing facial cleanser.
Contains gluconolactone and maltobionic acid.
Stimulate cell turnover to enhance texture and clarity.
Aloe, chamomile, cucumber and rosemary extracts soothe and refresh skin.
Skin Active Matrix Support SPF 20
This advanced formula provides a unique action for greater skin repair and strengthening. Collagen production increases in the deep matrix, the skin's plumpness and firmness is enhanced, and wrinkles are smoothed from the inside out. Repair the skin's matrix support structure and reduce the appearance of uneven pigment with a daytime moisturiser that firms, smooths and protects the skin.
Matrixyl™ 3000 peptides help increase collagen production.
Neoglucosamine and retinol enhance plumpness and diminish appearance of wrinkles.
Pomegranate, vitamins A and E and coffee arabica berry help protect skin's matrix against further damage.

Skin Active Intensive Eye Therapy
NeoStrata has developed a multi-mechanistic approach to building and plumping the delicate skin in the eye area. The skin appears more lifted, resulting in noticeably younger-looking eyes. Target crow's feet and puffiness by plumping the deep layers of the skin, smoothing lines and wrinkles from the inside out. The product has been ophthalmologist tested.
Apple stem cell extract preserves a youthful look and the vitality of skin.
Peptides stimulate matrix components to produce more collagen.
Neoglucosamine reinforces collagen's surrounding support structure.
Caffeine reduces puffiness.
Skin Active Dermal Replenishment
NeoStrata presents a powerful anti-ageing skin solution. This intense hydrator is an emollient moisture booster designed for dry skin losing its moisture content as a result of ageing. With a combination of clinically-proven ingredients (including aminofil, neoglucosamine, prodew and maltobionic acid), Skin Active Dermal Replenishment tackles common problems of maturing skin from uneven skin tone and mottled pigmentation to slack, lined skin.