Starter and step up AHAs are anti-ageing and improve skin texture and clarity. This range is used for treating:
poor surface texture
rough, dull skin
enlarged pores
congested pores
fine lines and wrinkles
All of the Resurface products are formulated with alpha hydroxy acids (AHAs) which work on the epidermis or top layer of the skin, as well as exerting an effect at dermal level, stimulating collagen production.
AHAs dissolve the bonds of thickened dead skin cells on the skin surface, exfoliating the upper surface layers and revealing newer, hydrated, healthier skin underneath.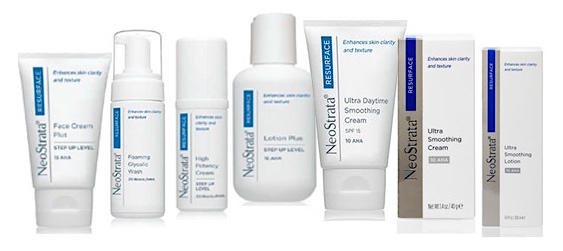 Foaming Glycolic Wash
Exfoliate and unclog skin with this foaming facial wash. Its ingredients stimulate skin renewal and prepare skin for a follow-up regimen.
Ultra Daytime Smoothing Cream SPF 15
Use this exfoliating moisturiser daily for a smoother texture, more even pigmentation and improved firmness. It contains broad-spectrum UV protection and an AHA blend.
Ultra Smoothing Cream
This product moisturises and restores a smoother appearance to skin.
Ultra Smoothing Lotion
Smooth skin by promoting cell turnover. This lotion is gentle absorbed into the skin.
Face Cream plus (Step Up Level)
This is a powerful cream for users with a tolerance for glycolic acid.
High Potency Cream (Step Up Level)
This intense treatment for experienced AHA users assists with poor skin texture and loss of tone.
Lotion plus (Step Up Level)
Experienced AHA users preferring a lightweight formulation will appreciate this high-strength lotion that  softens roughness due to sun damage, hyperkeratosis and keratosis pilaris.