The NeoStrata ProSystem is a highly effective superficial peeling system used by medical skincare professionals looking to provide clinically proven results for patients. This system offers a Retinol peel, four concentrations of our free-acid glycolic acid peels and two targeted benefit peels (Clarifying and Brightening). NeoStrata ProSystem peels are brief, in-clinic procedures performed under the supervision of a physician. This flexible system allows skincare professionals to design treatment programmes specifically to meet the individual skincare needs of each patient.
7 peel options
1 x retinol peel: 3% retinol plus Retinol Boosting Complex™
4 x glycolic acid peels: 20%, 35%, 50% and 70%
2 x peel boosters: Clarifying  peel 30% mandelic and citric acid or Brightening peel 30% citric acid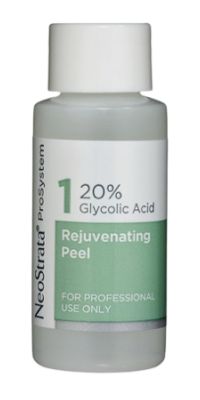 4 glycolic acid peels
ProSystem rejuvenating peels are 100% free-acid peels to maximise bioavailability. They help to improve visible skin imperfections by exfoliating the dead surface layers of the skin and stimulating cell renewal to uncover healthier cells. Rejuvenating peels are available in four different percentages – 20%, 35%, 50% and 70%.
Ideal for the following indications:
acne
pigmentation
hyperkeratosis
keratosis pilaris
textural concerns
rejuvenation
overall health of the skin
1 ProSystem retinol peel
This advanced, physician-strength peel contains 3% retinol plus Retinol Boosting Complex™ to exfoliate and improve the appearance of fine lines and wrinkles, help reduce acne and improve skin laxity while promoting a bright, even and clear complexion. Contains soothing bisabolol to help calm skin.
Clarifying Peel – 30% mandelic + citric acid (pH 1.6)
Brightening Peel – 30% citric acid (pH 1.6)
Citric acid enhances penetration of glycolic acid when applied two minutes prior to glycolic acid. It allows for more combination peels and is also a potent antioxidant.
The results speak for themselves
NeoStrata ProSystem peels are ideal for patients with multiple skin rejuvenation concerns including rough texture, fine lines, wrinkles, discolouration, blemishes, keratosis pilaris, and pseudofolliculitis barbae.
Gallery: NeoStrata peels – wrinkes, acne, hyperpigmentation

Disclaimer: Results may vary from person to person