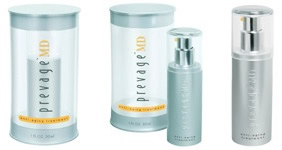 Use PREVAGE MD to avoid the major risk factors for stressed skin.
What can you do to keep that healthy glow at any age? There are many other ways to improve your health and your skin. Below is a list of healthy skin tips. Talk to your doctor for more suggestions and personalised guidance for your skin and lifestyle.
Follow a healthy diet
What you eat has an impact on how well your skin can heal itself. Whenever possible, choose foods that are fresh and unprocessed.
Take vitamins that are good for your skin. Boosting your diet with vitamins and minerals that work on your skin is an easy way to help prevent problems down the road. Some examples include beta carotene, Vitamins C and E, selenium, zinc and flaxseed oil. Talk to your doctor or nutritionist to learn more.
Drink Water
Your body loses nearly three litres of water every day. Staying hydrated is essential for healthy skin, keeping it supple, clear, and moisturised. Everyone should drink at least two litres of water every day.
Don't overindulge in alcohol
For the same reason that water is so important for healthy skin, too much alcohol can have the opposite effect. Alcohol dehydrates you, and depletes your vitamin and mineral levels.
Limit your exposure to sunlight
While you do need some sun exposure to help your body generate Vitamin D, too much can be very harmful. Sun exposure is a top cause of every skin problem, whether it's fine lines and wrinkles or something as serious as skin cancer. Limit your exposure to the sun and its harmful UV rays whenever possible.